Кластер
Итак , вам нужен кластер
Что это такое кластер и для чего он нужен? По-сути , это супер-компьютер ,который может построить каждый. Cluster - это компьютер с параллельной архитектурой , построенный из множества компонентов. Этот подход основан на использовании персональных компьютеров. Скорость вычислений , размер памяти , доступное дисковое пространство в сумме дают выигрыш. Фактически , если взять первые пять супер-компьютеров из списка "Top500" , они представляют из себя кластеры.
A Beowulf cluster is a form of parallel computer, which is nothing more than a computer that uses more than one processor. There are many different kinds of parallel computer, distinguished by the kinds of processors they use and the way in which those processors exchange data. A Beowulf cluster takes advantage of two commodity components: fast CPUs designed primarily for the personal computer market and networks designed to connect personal computers together (in what is called a local area network or LAN). Because these are commodity components, their cost is relatively low. As we will see later in this chapter, there are some performance consequences, and Beowulf clusters are not suitable for all problems. However, for the many problems for which they do work well, Beowulf clusters provide an effective and low-cost solution for delivering enormous computational power to applications and are now used virtually everywhere. This raises the following question: If Beowulf clusters are so great, why didn't they appear earlier?
Many early efforts used clusters of smaller machines, typically workstations, as building blocks in creating low-cost parallel computers. In addition, many software projects developed the basic software for programming parallel machines. Some of these made their software available for all users, and emphasized portability of the code, making these tools easily portable to new machines. But the project that truly launched clusters was the Beowulf project at the NASA Goddard Space Flight center. In 1994, Thomas Sterling, Donald Becker, and others took an early version of the Linux operating system, developed Ethernet driver software for Linux, and installed PVM (a software package for programming parallel computers) on 16 100MHz Intel 80486-based PCs. This cluster used dual 10-Mbit Ethernet to provide improved bandwidth in communications between processors, but was otherwise very simple—and very low cost.
Why did the Beowulf project succeed? Part of the answer is that it was the right solution at the right time. PCs were beginning to become competent computational platforms (a 100MHz 80486 has a faster clock than the original Cray 1, a machine considered one of the most important early supercomputers). The explosion in the size of the PC market was reducing the cost of the hardware through economies of scale. Equally important, however, was a commitment by the Beowulf project to deliver a working solution, not just a research testbed. The Beowulf project worked hard to "dot the i's and cross the t's," addressing many of the real issues standing in the way of widespread adoption of cluster technology for commodity components. This was a critical contribution; making a cluster solid and reliable often requires solving new and even harder problems; it isn't just hacking. The contribution of the community to this effort, through contributions of software and general help to others building clusters, made Beowulf clustering exciting.
Since the early Beowulf clusters, the use of commodity-off-the-shelf (COTS) components for building clusters has mushroomed. Clusters are found everywhere, from schools to dorm rooms to the largest machine rooms. Large clusters are an increasing percentage of the Top500 list. You can still build your own cluster by buying individual components, but you can also buy a preassembled and tested cluster from many vendors, including both large and well-established computer companies and companies formed just to sell clusters.
This book will give you an understanding of what Beowulfs are, where they can be used (and where they can't), and how they work. To illustrate the issues, specific operations, such as installation of a software package are described. However, this book is not a cookbook; software and even hardware change too fast for that to be practical. The best use of this book is to read it for understanding; to build a cluster, then go out and find the most up-to-date information on the web about the hardware and software.
Each of the areas discussed in this book could have its own book. In fact, many do, including books in the same MIT Press series. What this book does is give you the basic background so that you can understand Beowulf Clusters. For those areas that are central to your interest in Beowulf computing, we recommend that you read the relevant books. Some of these are described in Appendix B. For the others, this book provides a solid background for understanding how to specify, build, program, and manage a Beowulf cluster.
We begin by defining what a cluster is and why a cluster can be a good computing platform. Since not all applications are appropriate for clusters, Section 1.3 introduces techniques for estimating the performance of an application on a cluster, with an illustration drawn from technical computing. With this background, the next two sections provide two different ways to read this book. Section 1.4 provides a procedural approach, from choosing which components will constitute the cluster to determining how applications can be tuned on the cluster. Section 1.5 provides a topical approach, such as how to program it, run jobs on it, or specify a cluster's components.
Chapter 2:

Node Hardware
Highlights
Narayan Desai and Thomas Sterling
Few technologies in human civilization have experienced such a rate of growth as that of the digital computer and its culmination in the PC. Its low cost, ubiquity, and sometimes trivial application often obscure its complexity and precision as one of the most sophisticated products derived from science and engineering. In a single human lifetime over the fifty-year history of computer development, performance and memory capacity have grown by a factor of almost a million. Where once computers were reserved for the special environments of carefully structured machine rooms, now they are found in almost every office and home. A personal computer today outperforms the world's greatest supercomputers of two decades ago at less than one ten-thousandth the cost. It is the product of this extraordinary legacy that Beowulf harnesses to open new vistas in computation.
A Beowulf cluster is a network of nodes, with each node a low-cost personal computer. Its power and simplicity are derived from exploiting the capabilities of the mass-market systems that provide both the processing and the communication. This chapter explores the hardware elements related to computation and storage. The choice of node hardware, along with the choice of a system area network, will determine the basic performance properties of the Beowulf for its entire operational lifetime. Neither of these choices should be taken lightly; tremendous variation exists among instances of all components involved. This chapter discusses the components included in a cluster node, their function in a system, and their effects on node performance. Communication hardware is discussed in detail in Chapter 4.
The purpose of a Beowulf cluster is to perform parallel computations. This is accomplished by running applications across a number of nodes simultaneously. These applications may perform in parallel; that is, they may need to coordinate during execution. On the other hand, they may be performing an embarrassingly parallel task, or a large group of serial tasks. One key factor in application performance in all cases is local node performance.
2.1

Node Hardware Overview

A cluster node is responsible for all activities and capabilities associated with executing an application program and supporting a sophisticated software environment. The process of application involves a large number of components. An application is actually executed on the main CPU. The CPU loads data from its cache and main memory into registers. All applications use peripherals, such as persistent storage or network transmission, for noncomputational tasks. All peripherals load data into or process data from main memory, where it can be accessed by the system CPU. Applications can be characterized in terms of these three basic operations:
Instruction execution: operating on data in registers, storing the results in term in registers. This operation is implemented entirely by the CPU.

Register loading: loading data from main memory or processor cache into processor registers to facilitate instruction execution. This operation involves the CPU, front-side bus, and system memory.

Peripheral usage: copying data across an I/O bus into or out of main memory to allow for a noncomputational task to occur. This operation involves the peripheral, the I/O bus, and the interface from the I/O bus into system memory, and system memory itself.
The system CPU is the main processor, on which most code is executed. A node may have more than one of these, operating in SMP (symmetric multiprocessing) mode. This processor will have some amount of cache. Cache is used for fast access to data in main memory. Cache is typically ten times faster than main memory, so it is advantageous to load data into cache before using it. Main memory is the location where running programs, including the operating system, store all data. It is not persistent; data that should survive beyond a reboot is copied to some persistent medium, such as a hard disk. An I/O bus connects main memory with all peripherals. The peripherals (disk controllers, network controllers, video cards, etc.) operate by manipulating data from main memory. For example, a disk write will occur by copying data across the I/O bus to the disk controller. The disk controller will then actually write the data to disk.
In detail, when an application is executed, it is loaded from disk or some other persistent storage into main memory. When execution actually begins, parts of the application are copied into processor cache. From here, the data is written into on-processor registers, where the processor can directly access it. When the processor is done with this data, it is copied back out to main memory. When the application is dependent on data from a peripheral (e.g., data read from hard disk, or data received on a network interface) loading data into registers becomes much more complex. For example, a kernel call will result in a disk controller's reading of data from hard disk into local storage on the controller. The controller will copy the data across the I/O bus to system main memory, from which it can be loaded into registers for the processor to operate on. Each of these steps is faster than the proceeding step; indeed, there are several orders of magnitude difference between the speeds of the first step and the last step. All applications can be characterized in terms of these basic three types of activities.
2.2

Microprocessor

A microprocessor (also referred to as the CPU or processor) is at the heart of any computer. It is the single component that implements instruction execution. Processors vary in a number of ways; we focus on the more important characteristics. The lowest-level binary encoding of the instructions and the actions they perform are dictated by the microprocessor instruction set architecture (ISA). The most common ISA used for cluster node CPU is IA32, or X86. This family of processors includes all generations of the Pentium processor and the Athlon family. A shared ISA doesn't imply an identical instruction set; newer processors have extra features that old processors do not. For example, SSE and SSE2 are numerical instruction sets that were added in Pentium III and Pentium 4 processors, respectively. The earliest clusters were composed of 486 processors, which implement this ISA.

A processor runs at a particular clock rate. That is, it can execute instructions at a particular frequency, measured in terms of megahertz or gigahertz. For example, a 2.4 GHz processor can execute a rate of 2.4 billion instructions per second. Note that a processor's clock rate is not a direct measure of performance. Frequently, processors with different clock rates can perform equivalently for some tasks; likewise, two processors with the same clock rate can perform quite differently for some tasks. Current clock rates range from 1 GHz to slightly over 3 GHz.

Any processor has a theoretical peak speed. Theoretical peak is the maximum rate of instruction execution a processor can achieve. This is determined by the clock rate, ISA, and components included in the processor itself. This rate is measured in floating-point operations per second, or flops. A current generation processor will have a theoretical peak of 3–5 gigaflops. As one might guess from the name, theoretical peak is just that, theoretical. A processor rarely, if ever, runs at that rate while executing a real user application.

Both the instructions and the data upon which they act are stored in and loaded from the node's random access memory (RAM). The speed of a processor is often measured in megahertz, indicating that its clock ticks so many million times per second. RAM runs at a much slower clock rate, usually measured in hundreds of megahertz. Thus, the processor often waits for memory, and the overall rate at which programs run is usually governed as much by the memory system as by the processor's clock speed.

The slow rate at which data can be copied from RAM is mitigated by a processor's cache. The cache is a small amount of fast memory usually co-located on the CPU. When data is copied from main memory, it is also stored in cache. If the same data is accessed again, it can be read from cache. This is highly advantageous: applications can be optimized to access memory in patterns that take the best possible advantage of cache speed. The quicker access to memory in cache leads to better processor utilization; the processor spends less time waiting for data from memory. Processor caches vary in size from kilobytes on some processors to upwards of four to eight megabytes on processors specified to provide good floating point performance. Obviously, the larger the cache is, the easier it is to reuse entries stored in it.
2.2.1

IA32

IA32 is the most common ISA used in clusters today, and for the foreseeable future. This is caused by the enormous economies of scale at work. Processors implementing this ISA are used in the majority of desktop PCs sold. IA32 is a 32-bit instruction set. It is treated as a binary compatibility specification. Multiple processors, implemented in vastly different ways, all implement the same instruction set to allow for application portability. The three most common processors used in clusters today are the Pentium III and 4 processors, manufactured by Intel, and AMD's Athlon processor. Recent additions to the IA32 ISA include SSE and its successor SSE2. (Streaming SIMD Extensions) SSE and SSE2 are instruction set extensions that define instructions that can be performed in parallel on multiple data elements; these are not necessarily implemented in all instances of IA32 processors. These features can yield substantially improved performance, so care should be taken when choosing the processor for a new system. Hyperthreading is another feature recently added to the IA32 ISA. It allows multiple threads of execution per physical CPU. This feature typically impacts application performance negatively and can be disabled, so it really isn't a decision point when choosing a CPU, as SSE and SSE2 are.

Pentium 4. The Pentium 4 implements the IA32 instruction set but uses an internal architecture that diverges substantially from the old P6 architecture. The internal architecture is geared for high clock speeds; it produces less computing power per clock cycle but is capable of extremely high frequencies. This architecture is also the only IA32 processor family that implements the SSE2 instruction set, providing a substantial performance benefit for some applications. This is also the only architecture that implements hyperthreading, but (as was mentioned previously) this feature is not terribly important for computational applications typically run on clusters.

Pentium III. The Pentium III is based on the older Pentium Pro architecture. It is a minor upgrade from the Pentium II; it includes SSE for three-dimensional instructions and has moved the L2 cache onto the chip, making it synchronized with the processor's clock. The Pentium III can be used within an SMP node with two processors; a more expensive variant, the Pentium III Xeon, can be used in four-processor SMP nodes.

Athlon. The AMD Athlon platform is similar to the Pentium III in its processor architecture but similar to the Compaq Alpha in its bus architecture. It has two large 64 KByte L1 caches and a 256 KByte L2 cache that run at the processor's clock speed. The performance is a little better than that of the Pentium III and Pentium 4 in general at similar clock rates, but either can be faster depending on the application. The Athlon supports dual-processor SMP nodes. Newer Athlon processors support SSE, but not SSE2.
2.2.2

Other Processor Types

HP Alpha 21264. The Compaq (now HP and originally DEC) Alpha processor is a true 64-bit architecture. For many years, the Alpha held the lead in many benchmarks, including the SPEC benchmarks, and was used in many of the fastest supercomputers, including the Cray T3D and T3E, as well as the Compaq SC family. Alpha are still popular with some users, but since the Alpha processor line is no longer being developed and the current Alpha processor will be the last, Alphas are rarely chosen for new systems. However, a few large clusters make use of Alphas, including the ASCI Q system at Los Alamos National Laboratory; ASCI Q is one of the fastest systems in the world, according to the Top500 list.

The Alpha uses a Reduced Instruction Set Computer (RISC) architecture, distinguishing it from Intel's Pentium processors. RISC designs, which have dominated the workstation market of the past decade, eschew complex instructions and addressing modes, resulting in simpler processors running at higher clock rates, but executing somewhat more instructions to complete the same task.

PowerPC G5. The IBM PowerPC is an processor architecture used in products from IBM and from Apple. The newest processor is the G5, a sophisticated 64-bit processor capable of running at speeds of up to 2GHz. Other features include a 1GHz frontside bus and multiple functional units, allowing the G5 to perform multiple operations in each clock cycle. Apple sells Macs with the G5 processor, and a number of groups have built clusters using Macs, running Mac OS X (a Unix-like operating system).

IA64. The IA64 is Intel's first 64-bit architecture. This is an all-new design, with a new instruction set, new cache design, and new floating-point processor design. With clock rates approaching 1 GHz and multiway floating-point instruction issue, Itanium should be the first implementation to provide between 1 and 2 Gflops peak performance. The first systems with the Itanium processor were released in the middle of 2001 and have delivered impressive results. For example, the HP Server rx4610, using a single 800 MHz Itanium, delivered a SPECfp2000 of 701, comparable to recent Alpha-based systems. More recent results with a 1.5 GHz Itanium 2 in an HP rx2600 server gave a SPECfp2000 of 2119. The IA64 architecture does, however, require significant help from the compiler to exploit what Intel calls EPIC (explicitly parallel instruction computing).

Opteron. Another 64-bit architecture is AMD's Opteron. Unlike the Intel IA64 architecture, the Opteron supports both the IA32 instruction set as well as a new 64-bit extension, allowing users to continue to use their existing 32-bit applications while taking advantage of a 64-bit instruction set for applications that require easy access to more than 4 GB of memory. The Opteron includes an integrated DDR memory controller and a high-performance interconnect called "HyperTransport" that provides up to 6.4 GB/sec bandwidth per link; each Opteron may have three HyperTransport links. Early Opterons have delivered a SPECfp2000 of 1154. The AMD Opteron is used in the Cray "Red Storm," that will use over 10,000 processors and have a peak performance of over 40 Teraflops.
2.3

Memory

A system's random access memory (RAM, or memory) is a temporary storage location used to store instructions and data. Instructions are the actual operations a processor executes. The data comes from a variety of sources. It may be data supplied by some peripheral, such as a hard disk or network controller. It may be intermediary results generated during program execution. Instructions and data are both required for the processor to compute a meaningful result. Hence, the processor constantly is issuing commands to load or store data from memory across the memory bus. Memory buses operate at rates between 100 MHz and 800 MHz. This bus is also referred to as the front side bus, or FSB.

Because of the constant usage of system RAM and the large gap between processor clock rate and memory bus rate, the memory bus is one of the largest impediments to achieving theoretical peak. Memory bus performance is measured in terms of two characteristics. The first is peak memory bandwidth, the burst rate that data can be copied between the DRAM chips in main memory and the CPU. The FSB must be fast enough to support this high burst rate. In the case of some proprietary systems, memory accesses are pipelined to improve aggregate memory bandwidth. In this case, data is bursted from multiple groups of DRAM chips. However, this technique is not used in PC systems. The second characteristic is memory latency, the amount of time it takes to move data between RAM and the CPU. RAM bandwidth ranges from one to four gigabytes per second. RAM latency has fallen to under 6 nanoseconds.

Except for very carefully designed applications, a program's entire dataset must reside in RAM. The alternative is to use disk storage either explicitly (out-of-core calculations) or implicitly (virtual memory swapping), but this usually entails a severe performance penalty. Thus, the size of a node's memory is important in parameter in system design. It determines the size of problem that can practically be run on the node. Engineering and scientific applications often obey a rule of thumb that says that for every floating-point operation per second, one byte of RAM is necessary. This is a gross approximation at best, and actual requirements can vary by many orders of magnitude, but it provides some guidance; for example, a 1 GHz processor capable of sustaining 200 Mflops should be equipped with approximately 200 MBytes of RAM.

Two main types of RAM are used in current commodity systems. SDRAM has been in use for several years. RDRAM is a newer standard used only in Pentium 4-based systems. RDRAM tends to be faster and more expensive.
2.4

I/O Channels

I/O channels are buses that connect peripherals with main memory. These peripherals will range from disk and network controllers to video controllers, and USB and firewire. Machines will have several of these buses, each connected by a bridge (also referred to as the PCI chipset) into main memory. Because I/O is one of the most common tasks on computers, this subsystem is an integral part of any system.
2.4.1

PCI and PCI-X

The most common I/O channel in commodity hardware is the PCI bus. Every machine sold today has at least one; many have multiples of these buses. Many flavors of PCI exist; these buses have been included in commodity hardware since 1994. Earlier versions of the PCI bus were 32-bit, 33 MHz buses. The theoretical maximum rate of data transmission on these buses is 132 MB/s. Good implementations of the PCI chipset are able to provide nearly this rate; maximum observed bus rates greater than 125 MB/s are not uncommon.

Newer revisions of PCI buses are 64-bit buses, running at 66 MHz or higher. These buses have become quite common over the last three to four years. The theoretical maximum rate for these is upwards of 500 MB/s. Good implementations of this PCI chipset provide between 400 and 500 MB/s of read and write bandwidth. Good PCI-X implementations, running at 133 MHz, provide upwards on 900 MB/s of read and write bandwidth.
2.4.2

AGP

AGP is a port used for high-speed graphics adapters. It is connected closely with main memory, providing better peak bandwidth than that offered by PCI or PCI-X. AGP devices are able to directly use data out of main memory. AGP is not a bus, like PCI. It is only able to support one device, and systems only have one port. AGP 2.0 provided a peak bandwidth over 1 GB/s to main memory. The successor to this, AGP 3.0, provides upwards of 2.1 GB/s to main memory.
2.4.3

Legacy Buses

Older machines will also have other buses. The ISA bus is an 8 or 16-bit bus, commonly used in older machines. Vesa local bus is a 24-bit bus, common in some generations of 486 machines. EISA is an extension to ISA that was common in older servers. All of these buses should be avoided if possible: They are slow, and peripheral choice is non-existent.
2.5

Motherboard

The motherboard is a printed circuit board that contains most of the active electronic components of the PC node and their interconnection. The motherboard provides the logical and physical infrastructure for integrating the subsystems of a cluster node and determines the set of components that may be used. The motherboard defines the functionality of the node, the range of performance that can be exploited, the maximum capacities of its storage, and the number of subsystems that can be interconnected. With the exception of the microprocessor itself, the selection of the motherboard is the most important decision in determining the qualities of the PC node to be used as the building block of the system. It is certainly the most obvious piece of a node other than the case or packaging in which it is enclosed.

The motherboard integrates all of the electronics of the node in a robust and configurable package. Sockets and connectors on the motherboard include the following:
Microprocessor(s)

Memory

Peripheral controllers on the PCI-X bus

AGP port

Floppy disk cables

ATA or SCSI cables for hard disk and CD-ROM

Power

Front panel LEDs, speakers, switches, and so forth.

External I/O for mouse, keyboard, joystick, serial line, sound, USB, and so forth.
Other chips on the motherboard provide
the system bus that links the processor(s) to memory,

the interface between the peripheral buses and the system bus, and

programmable read-only memory (PROM) containing the BIOS software.
As the preceding lists show, motherboards are an amalgamation of all of the buses and many peripherals in a cluster node. The memory bus is contained within the motherboard. All I/O buses a system supports are also included here. As data movement is the most serious impediment to achieving peak processor performance, the motherboard is one of the single most important components in a system.
We note that the motherboard restricts as well as enables functionality. In selecting a motherboard as the basis for a cluster node, one should consider several requirements including
2.5.1

Chipsets

Chipsets are a combination of all of the logic on a motherboard. Typically included are the memory bus, PCI, PCI-X and AGP bridges. In many cases, integrated peripherals are also part of the chipset. This may include disk controllers and USB controllers. Because the chipset combines all of these components, performance properties of single components are often attributed to the chipset itself.

The chipset is split into two logical portions. The north bridge connects the front side bus, which connects the processor, the memory bus, and AGP. AGP is located on the north bridge so as to have special access to main memory. The south bridge contains I/O bus bridges and any integrated peripherals that may be included, like disk and USB controllers. This provides controllers for all of the simple devices mentioned later in the peripherals section.
2.5.2

BIOS

The BIOS is the software that initializes all system hardware into a state such that the operating system can boot. BIOSes are not universal; that is, the BIOS included with a motherboard is specifically tailored to that motherboard. The BIOS is the first software that runs after the system is powered up. The BIOS will start by running a power on self test (POST) that includes this ubiquitous memory test. POST also checks other major systems. The BIOS runs initialization code present on peripherals, including controller-specific code that initializes SCSI or IDE buses. Once these steps are completed, the BIOS locates a drive to boot from, and does so.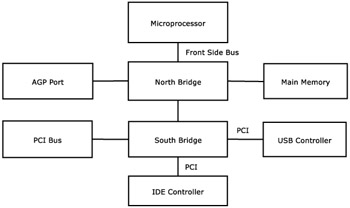 Figure 2.1:

Block diagram of a motherboard chipset. The chipset consists of the entire diagram excluding the processor and memory.
PXE (Pre-execution environment) is a system by which nodes can boot based on a network-provided configuration and boot image. The system is implemented as a combination of two common network services. First, a node will DHCP for an address. The DHCP server will return an offer and lease with extra PXE data. This extra data contains an IP address of a tftp server, a boot image filename (that is served from the server), and an extra configuration string that is passed to the boot image. Most new machines support this, and accordingly many cluster management software systems use this feature for installations. This feature is implemented by the BIOS in motherboards with integrated ethernet controllers, and in the on-card device initialization code on add-on ethernet controllers.
LinuxBIOS is a BIOS implementation based on the Linux kernel. It can perform all important tasks needed for an operating system to boot. These tasks are largely the same as proprietary BIOSes, but some of these steps have been streamlined in such a way that all operating systems do not function properly when booted from LinuxBIOS. At this point, Linux and Windows 2000 are supported. Work is under way to supply all BIOS features necessary to run other operating systems as well. This approach offers several benefits. Since source code is available for LinuxBIOS, the potential exists for users to fix BIOS bugs. LinuxBIOS is also performs far better than proprietary BIOSes in terms of boot time. This reduction has yielded boot times under five seconds. This speed is far better than times in the ten to ninety second range seen with proprietary BIOSes. This performance increase doesn't affect user applications, as most user applications don't require node reboots.
2.6

Persistent Storage

With the exception of BIOS code and configuration, all data stored in memory is lost when power cycles occur. In order to store data persistently, non-volatile storage medium is required. Specifically, data from a system's main memory is usually stored on some sort of disk when applications are not using it. It is then loaded when the application needs it again.
2.6.1

Local Hard Disks

Most clusters have a hard disk on each node for some storage. This is usually used in addition to a central data storage facility. Hard disks are magnetic storage media that interface with some sort of storage bus. A hard drive will contain several platters. Data is read off of these platters as they rotate. Logic in the drive optimizes read and write requests based on the geometry of the disk to provide better collective performance. This logic also contains memory cache, which is used to prevent the need for multiple reads of the same data.

Disks also have an interface to any of a number of disk buses. The three most common buses currently in use for commodity disks are IDE (or EIDE or ATA), SCSI, and Serial ATA. IDE disks are the most common. Controllers are integrated into nearly every motherboard sold today. These controllers support two devices per bus and typically include two buses, for a total of four devices. The fastest of these buses, UDMA133 (Ultra DMA 133), run at rates up to 133 MB/s. IDE devices are typically implemented with less logic on each drive, leading to higher host CPU utilization during I/O when compared with SCSI.

SCSI disks are typically used in servers. Everything but the bus interface logic is nearly identical in many disks, regardless of disk interface bus. Many vendors sell multiple versions of many of their drives, one for each bus type. That said, the major difference between IDE and SCSI disks is the obvious one: the data bus. SCSI buses support many more devices and run at higher speeds. Current SCSI buses support up to fifteen devices and the controller, which functions as a SCSI device as well. Current-generation SCSI buses operate at rates up to 320 MB/s. This higher data rate is needed because of the larger quantities of devices sharing a single bus. The largest differentiating characteristic between IDE and SCSI disks is the cost at this point; SCSI disks are more expensive.

Serial ATA, or SATA, is the newest commodity disk standard. New, high-end motherboards are beginning to incorporate controllers. Nominally, Serial ATA is similar to IDE/ATA. Those older standards are now referred to collectively as Parallel ATA, or PATA. SATA is poised to take over the market segment of PATA; drives are not quite price competitive at this time, but their prices are close enough that in the next few months, they should drop to PATA levels. Serial ATA, as the name suggests, is a serial bus as opposed to the parallel buses used PATA and SCSI. Hence, the cables attached to drives are smaller and run faster: current SATA connections function at 150 MB/s. Because SATA buses are only used by two devices, the aggregate data rate doesn't need to be as high as those on parallel buses to perform comparably. Because of the serial nature of SATA, bus speeds will increase rapidly, when compared with parallel buses like PATA and SCSI. SATA is natively hot-pluggable, and its cables are far smaller than the ribbon cables used by PATA and SCSI. The increased speed of SATA buses doesn't provide a real benefit at this point; most drives don't function at speeds high enough to congest a high-speed PATA controller.

The same basic disk technology is used in disks using any of the three previously mentioned buses. Hence, the basic measures of performance are the same as well. The platters in disks spin at a variety of rates. The faster the platters spin, the faster data can be read off of the disk, and data on the far end of the platters will become available sooner. Rotational speeds range from 5,400 RPM to 15,000 RPM. The faster the platters rotate, the lower latency and higher bandwidth are. The other main indicator of performance of a disk is the amount of cache included in the on-disk controller. As was mentioned previously, this cache is used to avoid disk reads when particular blocks on the disk are requested multiple times.
2.6.2

RAID

RAID, or Redundant Array of Inexpensive Disks, is a mechanism by which the performance and storage properties of individual disks can be aggregated. Aggregation may be done for a variety of reasons. Simplification of disk layout is the most common. Basically, the group of disks appear to be a single larger disk. This approach is commonly used when disks are in use that are not as large as the data that will be stored. Performance is another common reason. Multiple disks will perform better than single disks. The last reason RAID is used is to guard against hardware failure. When multiple disks are used in a RAID set, data can be stored in multiple places. This approach allows the system to continue functioning with no loss of data after disk faults. These solutions can be implemented in software, usually as an operating system driver, or in hardware, typically consisting of disk controllers, a processor that handles RAID functions, and a host connection. Hardware solutions tend to be more expensive but also tend to perform better without impacting host CPU utilization. Software solutions typically allow more flexibility, but the computational overhead of some RAID levels can consume large amounts of computational resources.

A variety of allocation schemes are used in RAID systems. With RAID0, or striping, data is striped across multiple disks. The result of this striping is a logical storage device that has the capacity of each of the disks times the number of disks present in the array. This array performs differently from a single larger disk. Reads are accelerated; each byte of data can be read from multiple locations, so interleaving reads between disks can double read performance. Write performance is similarly accelerated, as actually disk write performance is improved compared with that of a single disk.

With RAID1, or mirroring, complete copies of the data are stored in multiple locations. The capacity of one of these RAID sets will be half of its raw capacity. In this configuration, reads are accelerated in a similar manner to RAID0, but writes are slowed, as new data needs to be transmitted multiple times, to both parts of the mirror.

The third common RAID level is RAID5. It works similarly to RAID0, in that data is spread across multiple disks, with one addition. One disk is used to store parity information. This means for any block of data stored across the N-1 drives in an array, a parity checksum is computed and stored on the last disk. This allows the array to continue functioning in case of drive failure, as the parity checksum can be used in the place of a block off of any one of the data disks. Read performance on RAID5 volumes tend to be quite good, but write performance lags behind mirrors because of the overhead of checksum computation. This overhead can cause performance problems when using software RAID.

RAID is typically used on storage nodes in clusters. The reasons for this are the performance and capacity differences when compared to standalone disks. These disk I/O characteristics are not of prime import on compute nodes, so RAID is not typically configured there.
2.6.3

Nonlocal Storage

Nonlocal storage is used in similar ways to local storage. Data that needs to survive system power cycles is stored there. The physical medium on which data is stored is similar, if not identical, to the hard disk technology described in the preceding sections: the difference lies in the data transport layer. In the case of nonlocal storage, the storage device bus traffic is transmitted across a network to a central depot of storage. This network may or may not be dedicated to storage; standards exist for protocols of both types.

ISCSI is a protocol that encapsulates SCSI commands and data inside IP packets. These are typically transmitted over ethernet. It allows a single network to be used for disk I/O and regular network traffic, however, this can form a serious performance bottleneck. Fiberchannel is similar to ISCSI in character, but uses a dedicated network and data protocol.

Network filesystems are most common in clusters. Examples of this include NFS and PVFS. (PVFS is discussed in detail in Section 19) Network filesystems transmit persistent data across a network, but differ from the previous two storage types in the nature of the data being transmitted. Network filesystems transmit data with filesystem semantics across the network; the previous two protocols transmit block-based data.
3.2

The Linux Kernel

As mentioned earlier, for the Beowulf user, a smaller, faster, and leaner kernel is a better kernel. This section describes the important features of the Linux kernel for Beowulf users and shows how a little knowledge about the Linux kernel can make the cluster run faster and more smoothly.

What exactly does the kernel do? Its first responsibility is to be an interface to the hardware and provide a basic environment for processes and memory management. When user code opens a file, requests 30 megabytes of memory for user data, or sends a TCP/IP message, the kernel does the resource management. If the Linux server is a firewall, special kernel code can be used to filter network traffic. In general, there are no additives to the Linux kernel to make it better for scientific clusters—usually, making the kernel smaller and tighter is the goal. However, sometimes a virtual memory management algorithm can be twiddled to improve cache locality, since the memory access patterns of scientific applications are often much different from the patterns common Web servers and desktop workstations, the applications for which Linux kernel parameters and algorithms are generally tuned. Likewise, occasionally someone creates a TCP/IP patch that makes message passing for Linux clusters work a little better. Before going that deep into Linux kernel tuning, however, the kernel must first simply be compiled.